Goodbye Phlegm. Hello better breathing!
Therabubble™ is an effective and affordable bubble PEP device designed to clear phlegm from the lungs and improve respiratory function.
The modern bubble PEP device
Therabubble™ is proud to offer the modern bubble PEP device, with patented features and technology that make breathing easier. This simple treatment can be used by adults and children with a variety of respiratory conditions.
HOW DOES IT WORK?
Therabubble™ works by blowing air into a specially designed tube and water container to make bubbles.
This creates positive expiratory pressure (or PEP) in the airways, helping them to open and allow air to move in and out of the lungs. The vibrations created by blowing bubbles also help dislodge sticky mucus in the lungs.
With better airflow, phlegm can be coughed up and cleared and patients can breathe better.
What makes Therabubble™ better?
Affordable. Therabubble™ is a reusable, cost-effective treatment that can be used by patients in the hospital and at home.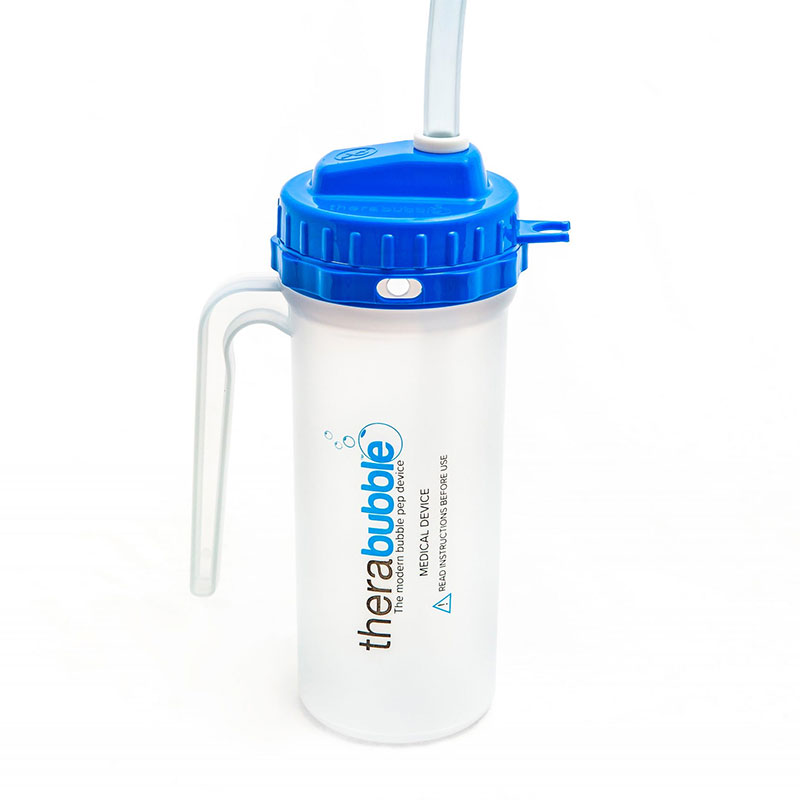 Purpose-built design.
No more makeshift equipment! Therabubble™ is an official medical device, designed by physiotherapists and listed on the Australian Register of Therapeutic Goods.
Affordable.
Therabubble™ is a reusable, cost-effective treatment that can be used by patients in the hospital and at home.
Exceptional quality.
Therabubble™ is made to last, featuring only the highest quality, medical-grade materials.
Enjoyable and easy to use.
Therabubble's™ user-friendly, ergonomic design makes it easy for young children, the elderly and people with limited dexterity to use.
Easy to clean.
Therabubble™ is easy to disassemble and clean between uses. All parts are dishwasher safe and quick to dry.
Environmentally friendly.
All Therabubble™ parts are completely recyclable so there's low impact on the environment.
Single-patient use.
Therabubble™ is designed to be reused by the same patient for up to 12 months, reducing the need for sterilisation between patient use.
Use a device you can trust every time.
Respiratory treatment shouldn't break the bank.
Shop our range of affordable bubble PEP devices now.
Designed by a Physiotherapist
Therabubble™ was co-designed and created by Kathryn Potter, an Advanced Physiotherapist who has worked in hospitals for over fifteen years. Kathryn has a special interest in respiratory health and is a member of the Australian Physiotherapy Association Respiratory special group.
Kathryn saw a need for an affordable, purpose-built bubble PEP treatment. After a number of years refining the design, Therabubble™ was commercialised in 2014. To date, Therabubble™ has helped over 60,000 people around the world to breathe better.